Jobs are currently filled for the season. If you are available from September through October for part time work, please inquire.
You can live in the city and still work on a farm! We are located near public transportation on the border of Cambridge and Belmont.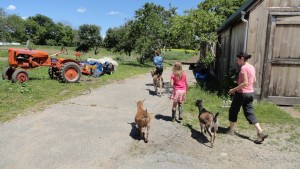 Seasonal positions available at Belmont Acres Farm from mid May through the end of October. Full and part-time positions are available, up to 40 hours a week. Priority is given to a person who can commit at least two week days for the entire farm season. Requires flexible hour commitment to respond to variable weather conditions. Primary tasks include planting, weeding, and harvesting. Ability to operate rotor tiller is a plus. Will also assist with CSA distribution and farm stand set up. Must be enthusiastic, personable, have a good sense of humor and enjoy working with others as part of a team.
Belmont Acres is a small for profit family run farm in Belmont, Massachusetts. We run a CSA and operate a farm stand; we are not organically certified, but follow organic practices. We are looking for field labor to support our CSA and farm stand operation. This includes starting seedlings in the hoop house, field preparation, transplanting and tillage (both by hand and mechanical). We are a small fast paced operation and are looking for hard-working people to support a growing business. The work is physically demanding and often requires long hours in a variety of weather conditions. We require that you are comfortable lifting up to 50 pounds. Belmont Acres Farm is a smoke free work place.
Apply with your resume and two references that we can contact. Please list the days of the week that you would be available to work. We require an on-farm interview.