Shares for our 2018 CSA for 2018 are now available.
Tuesday pick up is filled for 2018. Shares are still available for Thursday and Saturday.
We will be a pick up site for a pork and beef share from Bascom Hollow Farm, Gill MA this year.
Details will follow or email your questions.
Community Supported Agriculture (CSA), is a method of distributing the risks and rewards of farming with the community. By purchasing a share with us, you are not only getting 20 weeks of delicious, fresh and locally grown produce, sourced exclusively from our farm, but you are helping us get a jump start on our finances for the growing season! Our goal is to exceed the weekly dollar value worth of produce at each pickup over the course of the season, but there will be some fluctuation week by week and by season.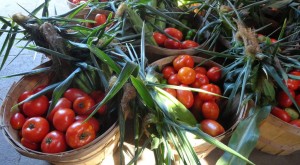 Our CSA begins June 19th and runs through November 3rd, for a total of 20 weeks. The price of each share is $710. Shares will be available for pickup on Tuesdays from 3 to 6:30 pm, Thursdays from 3:00pm to 6:00pm and Saturdays from 2 to 5 pm. Pickup times cannot be changed once selected.  If you cannot make it to a pickup, your share will not be held, so please designate a family or friend to pick it up for you! Our CSA model may not be a good fit for you if you expect to miss quite a few pick ups or can't commit to an assigned pick up schedule. Our farm stand is open during CSA pickup hours and may be a better option for you.
Shares are packed in half bushel baskets filled to the the brim and often beyond. The baskets contain between 8 to 12 different items. Many share holders have commented on the high diversity we provide in our shares. We concentrate on providing basics in shares, but we love diversity and are always trying new crops. The share tends to be enough for a family of two adults and two children. Some people don't eat enough vegetables, some people eat more. Here are some examples of what we put into shares. It is not uncommon to augment the share with additional vegetables if you are a vegetarian or if your family eats a lot of vegetables. We put leafy green vegetables (kale, collards or swiss chard) in almost every share.


We do not offer half-shares. You are welcome to split a share with a friend, although some items in the share might not be divisible by two! If you split a share, you are responsible for coordinating the share pick up with your partner.
We are also offering a flower share this year. It will run from mid July for 10 weeks. The bouquet will consist of approximately $15 of various flowers that are available each week. Some flowers will be limited and a maximum number of a given variety may be set. Zinnias and sunflowers will form a pick your own component of the share. Additional flowers will be available to build your bouquet. The cost of the share is $135. You will be notified of the exact start date. Flower shares will be available for pickup on Tuesdays from 3 to 6:30 pm, Thursdays from 3 to 6 pm and Saturdays from 2 to 5 pm.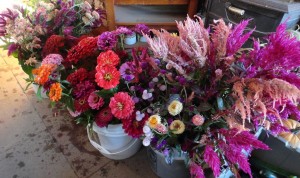 By purchasing a share you are also investing in your community and helping to build a community. We like to think that we grow more than just vegetables on the farm!
To sign up, please read the following and complete the form linked below:
Our 2018 CSA will run from June 19th through November 3rd.
Shares are $710 for 20 weeks.
Our flower CSA will run from mid July through September and are $135.
Shares are prepacked with the most abundant high quality produce available on day of pick up
Pick up days will be on Tuesdays from 3:00pm to 6:30pm, Thursdays from 3:00pm to 6:00pm and Saturdays 2:00pm to 5:00pm
Shares will be picked up on site, at 34 Glenn Road, in Belmont MA.
If you are unable to pick up your share, you may have a friend or family member pick up for you.
Shares MUST be picked up at scheduled time.
Shares will not be held; shares may not be picked up at alternative times.
The sign up form for our CSA is available here.
Contact us if you would like more information or have additional questions about our CSA.