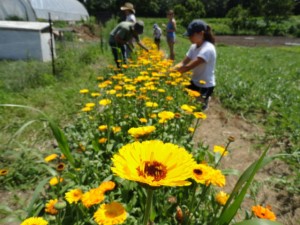 That's right, folks. We farmers here at Belmont Acres are not only known for enjoying our greens, but we also savor our oranges & yellows for a healthy dose of antioxidants. This time of year the bright hues of our Calendula flowers can entice hungry pollinators and laborers alike!
Calendula, a.k.a. Calendula marigold, is not technically from the marigold family, but is from a genus of about 15–20 species of annuals & perennials in the daisy family. Originally native to Eurasia, Calendula was later popularized in New England by settlers who used the plant's petals as a culinary substitute for more rare spices, such as saffron, to add color to butter, cheeses, breads, cookies, stews, and soups.
Calendula was also cherished for its medicinal properties both intrinsically and externally as a wound cleaner and healer. During the American Civil War and World War I, Calendula flowers were used on the battlefields in open wounds as anti-hemorrhagic and antiseptic, and they were used in dressing wounds to promote healing. The anti-inflammatory and antimicrobial properties of its petals, as well as its high levels of iodine and manganese, promote quick skin regeneration and healing from rashes, cuts, stings, and bruises.
For it's culinary & medicinal properties. Calendula was named 2008 Herb of the year by the International Herb Association & was consequently featured in a publication by Susan Belsinger. Read on for a selection of her tasty & creative Calendula recipes.
COOKING WITH CALENDULA
Calendula is super easy to incorporate into any meal you're serving.
After washing and lightly drying, gently pull petals from the bitter center disk of the flower head. Sprinkle petals over salads & dishes to brighten up your plate and add a subtle hint of pepperiness. (petals can also be dried & stored like any other herb)
Herb Butter with Calendula
by Susan Belsinger
To prepare 1/2 cup of herb butter:
Soften 1 stick of unsalted butter. Finely chop 1 tablespoon of washed & dried Calendula petals + 1 tablespoon of any herb(s) of your choice. Gently blend the herbs with the softened butter. Add 1 tablespoon of olive oil to give the butter a more spreadable texture and a good flavor. You may want to add a bit of salt or pepper, lemon juice, or even minced garlic or shallots, depending on how you are going to use the butter. Pack into a small crock and refrigerate or freeze until ready to use.
Other Calendula Recipe Ideas here.
• Calendula Cornmeal Crisps
• Calendula Cornbread
• King Cake with Calendula
• Banana Cake with Calendula
• Maple Cream Cheese Frosting
• Egg Salad with Calendula and Chives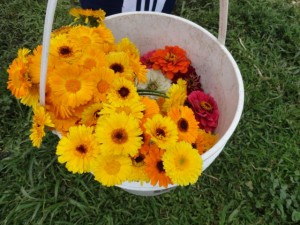 CALENDULA TEA
Calendula tea is reported to soothe intestinal irritations & assist people with food sensitivities.
Boiling water method with fresh flowers: Fill a heat-proof jar with fresh flower petals and pour boiling water over them. Cap and let infuse until the tea is cool enough to drink.
Sun tea method: Fill a jar with fresh flowers (or 1/4 full with dried flowers) and cover with water. Cap and place out in the sun for at least 5 or 6 hours.
Boiling water method with dried flowers: Place around a tablespoon of dried calendula flowers in a heat proof mug and pour boiling water over them. Cover with a saucer and let steep for around 15 to 20 minutes.
Strain after infusing & enjoy. Petals can be composted or thrown away. Leftover tea can be stored in the fridge for a couple of days.
For 14 uses for Calendula tea, read here.
As with any new herb, enjoy conscientiously & take precautions during pregnancy.