This past week has been a blur: we've been out in the fields and the community– it's been great!
We're in the middle of a big push to get plants out into the fields, even though there was a frost advisory this week (can you believe that??) We've got our spring brassicas in the ground (kale, broccoli, cauliflower, cabbage, horseradish, and bok choi), planted more potatoes, more onions, plus tomatillos and the beginning of our tomatoes. I'm so excited about those tomatoes! Taking them out to be planted, I was overwhelmed by the unmistakable smell of tomato–too good! They look super happy and healthy, nestled in their salt-marsh-hay mulch. Photos and words really can't describe the beauty I see in the soft undulations of a hay-mulched field.
We also had a class from one of the local elementary schools in to visit on friday. The kids had a blast!! Abby has been working with the Belmont Public schools on various farm-related educational projects, and I'm really looking forward to her blog-post about them.
Today was Town Day in Belmont, and Abby and I spent a few hours handing out flyers and meeting people. One of the great shames about this farm is what a well-kept secret it is, but we made some headway in righting that today.
Bringing me to my next point…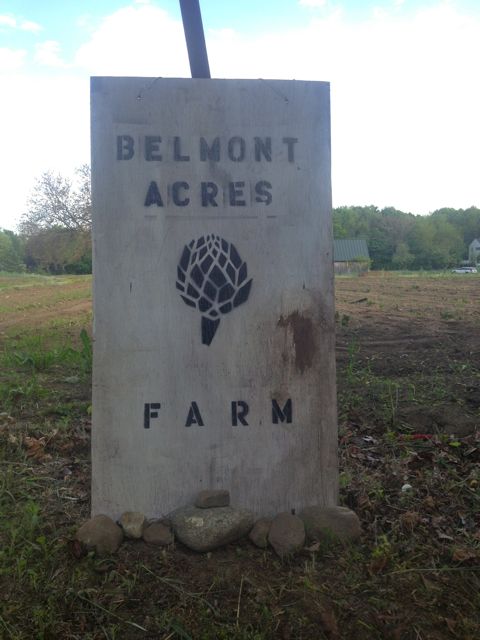 Belmont Acres has a sign!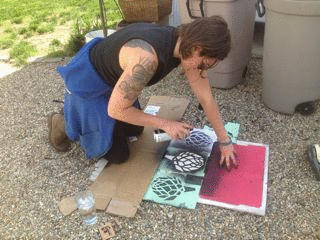 It's rather dashed together– I made it this morning for Town Day– but it exists! We've been getting a number of people wandering in during the day, wondering what the heck we're doing with all this land in the middle of the burbs. So now they know– we're getting signs dirty and growing food!
Just for fun, here's a little gif I made of me spray-painting the sign:
So that's all for now. If you're reading this and you came here via Belmont Town Day, thanks for checking us out! We hope to see you on the farm this season. Spring is in the air, and we'll be ready to open the stand any minute now– stay tuned for updates!