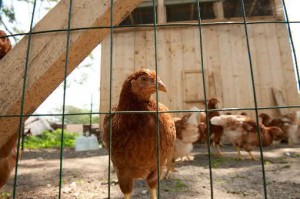 We have 24 brown egg layers from Moyers. A friend had some and I was impressed by their egg production and how friendly they were.
The chicks arrived in early March and moved into our basement for about three weeks, then moved into the garage. After that they moved to the farm into a brand new coop built by Helen and Holly (guided by Bob). The coop was so nice that my daughter was reluctant to have the chickens move in.
The chickens are fed organic certified feed, some bread from our friends at Iggys and of course left over vegetables from the farm. Egg production began the first week of July with a few small pullet eggs, by the end of July we were getting about 18 eggs a day. The eggs are consistently larger and the hens are eating much more feed, three 50 pound bags a month!